FRAN BERGER LIVING™
SIGNATURE PAIRINGS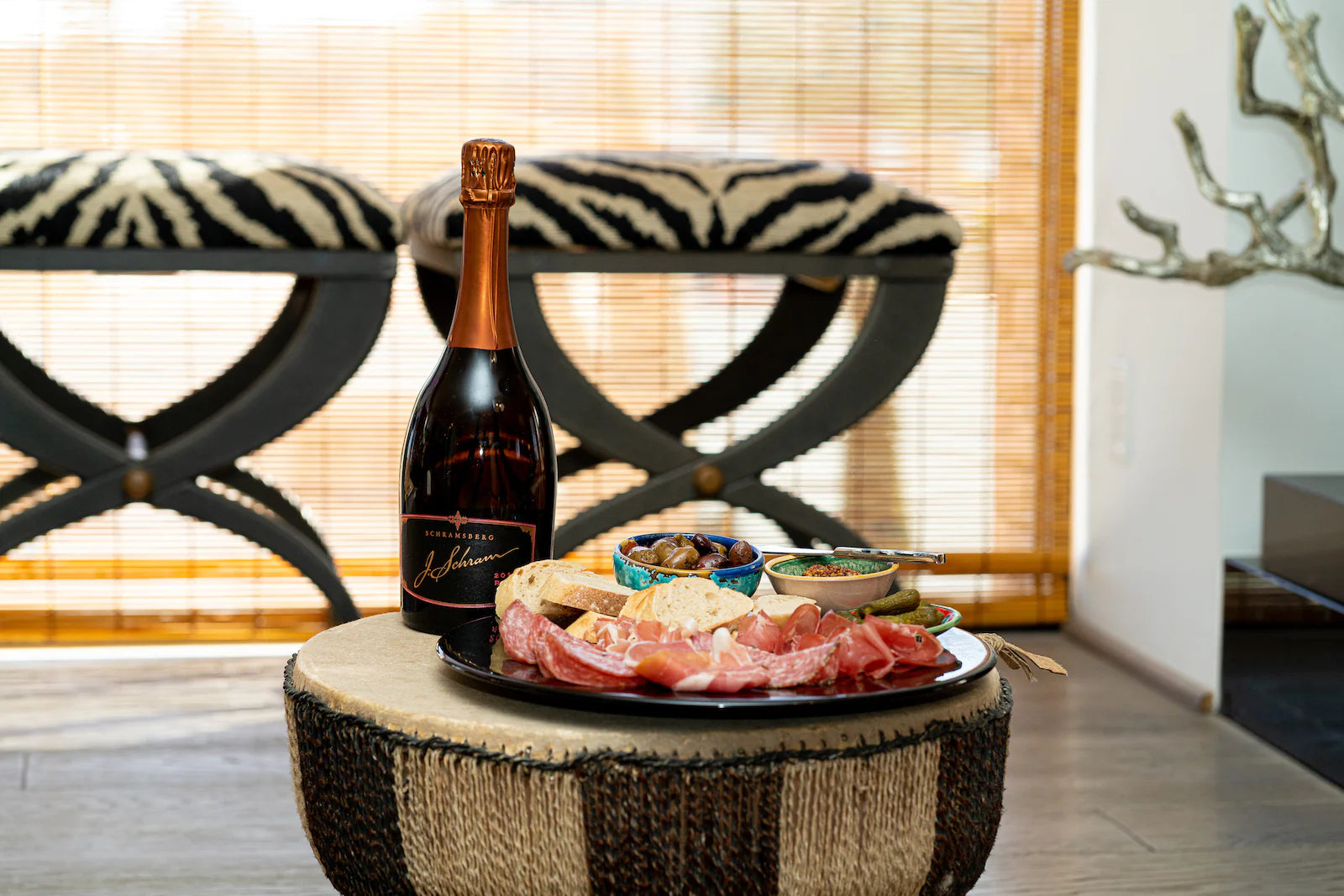 SPRING 23
Elevate Your Dining: Perfect Champagne & Food Pairings
Champagne is fascinating and delicious on its own but, when paired with food, can transform and elevate any dining experience. The combination of flavors, tight bubbles, and fresh aromas heighten the senses tenfold.   
Fran Berger is an expert in the entertaining and home design industry with a desire to create a phenomenal dining experience that brings friends and family together. Her experience and natural ability to create a sense of luxury in life's simplest moments make her uniquely suited to inspiring a gathering that your guests won't soon forget. Create the perfect pairing for your next celebration with some of the most delectable dishes to compliment your favorite glass of Champagne. From the driest of bubbles to the sweetest of flavors, here is a list of the best Champagne food pairings according to Fran:
Classic Champagnes

 
Brut
Brut is the most common and food-friendly style of Champagne because it contains less sugar and is high in acidity, giving it a crisp and refreshing flavor. The bubbly sharpness beautifully balances fatty and salty foods, so you can enjoy it for any dining occasion. Below are some of the best dishes to pair with your favorite bottle of Brut (my personal favorite Brut is Dom Perignon).
Option 1:
Caviar, Caviar and more Caviar! Black River Caviar is a favorite of choice.
Option 2:
Steak
White Truffle Potatoes
Salad with Citrus Vinaigrette Dressing
Option 3:
Fried Chicken 
Macaroni & Cheese
Blanc de Blancs
Blanc de Blancs Champagne tends to be lighter and slightly more crisp and dry compared to many other Champagnes. Like Brut Champagne, Blanc de Blancs make a lovely aperitif for just about any food-tasting experience - from an outdoor picnic at the lakehouse to an upscale evening toasting one of life's many celebrations. 
This style of Champagne is most appropriately paired with light dishes of seafood or fish, especially when paired with a Billecart-Salmon Blanc de Blancs. The lively acidity and touch of minerality will match the freshness of any shellfish. Here are some examples of dishes to pair with your Blanc de Blancs:
Option 1:
Shrimp or Calamari
Option 2: 
Oysters (grilled or raw)
Fettuccini with Black Olives and Chives
Parmesan Breadsticks
Option 3: 
Roasted Chicken (with various herbs, butter, garlic, and lemon)
Garden Salad
Option 4: 
Potato Chips or French Fries with a bleu cheese dipping sauce 
Rosé
Rosé Champagne is a light red wine expressing various flavors of red berries, citrus, and floral. This bright bubbly, particularly Ruinart, makes for a lovely accompaniment for various different types of foods, from romantic full-course meals to simple, handheld appetizers.  
Option 1: 
Charcuterie Board of Cured Meats
Option 2: 
Roasted Duck
Creamy Risotto
Arugula Salad
Option 3: 
Smoked Salmon
Roasted Asparagus with Parmesan
Spinach Salad with Feta 
Option 4:
Homemade Pizza 
Dry
Extra-Brut
Not quite as dry as Brut Nature and slightly sweeter than Brut, Extra-Brut Champagne has balanced hints of citrus and white floral flavors. This sparkling wine pairs well with soft cheeses, buttery cream sauce, and all kinds of seafood, perfect for any dining affair, specifically with a Bollinger R.D. Extra Brut. Here are some appropriate dishes to pair with a glass of Extra-Brut:
Option 1: 
Roasted Chicken Breast with Mushroom Gravy
Seasoned Vegetable Medley
Option 2: 
Steamed Lobster
Garlic & Herb Angel Hair Pasta
Option 3: 
Cheese Plate with Washed Rind Cheese (Vacherin, Epoisses, Taleggio, Munster)
Jams
Plain Crackers
Brut Nature 
As the driest of Champagnes, Brut Nature successfully complements most dishes from the sea, specifically raw fish because of the highly acidic and intense minerality of flavors. A fine Brut Zero, such as a Terre de Vertus Nature, displays a searingly dry mouthful with tight, crisp bubbles that enhance all of the senses during your dining experience. Below are some of the best foods to pair with a bottle of this dry sparkling wine:
Option 1: 
Sushi
Option 2: 
Caviar
Option 3:
Fish Tacos with Lime
Option 4: 
Balsamic Glazed Salmon
Tossed Salad with Goat Cheese and Candied Nuts
Sweet
Demi-Sec and Doux are the two sweetest styles of Champagne. Due to the high sugar content, these types of Champagnes are best enjoyed with other sweets - I served Schramsberg Cremant at my wedding. All the more reason to indulge in your guilty pleasures! Sweet Champagnes pair well with a wide range of desserts, including the following: 
Option 1:
Zesty Lemon Bars Aperitif 
Options 2: 
Light and Silky Chocolate Cake
Option 3:
Tarts and Puddings such as Rhubarb, Apricot, and Apple
Option 4:
Macarons
Conclusion 
Whatever your taste buds are craving, there is a perfect Champagne to match any dish and bring out the flavors in each and every bite. Consider introducing one of these recipes to your table and engage in the incomparable experience of a perfect pairing. Discover the mood-altering power of fine dining in the home by visiting Fran Berger's website - from her own high-quality creations to her curations of luxurious homeware, you will find the perfect pieces to add to your collection today.
If you're in need of fine glassware, browse our selection of champagne flutes and aperitif glasses from Fran Bergers Signature Glassware Collection.
SHOP FRAN BERGER LIVING™
SIGNATURE GLASSWEAR COLLECTION
From sun-soaked patio weekend brunches to cocktail parties surrounded by friends, candlelit dinner dates to cozy evenings curled up with a delightful book and an exquisite vintage…Elevate every occasion to special with this wondrous glassware collection from Fran Berger.