HOME ENTERTAINING
The Best Glasses for Champagne for Every Occasion
Elevate your next champagne experience with one of Fran's top 5 suggested glasses.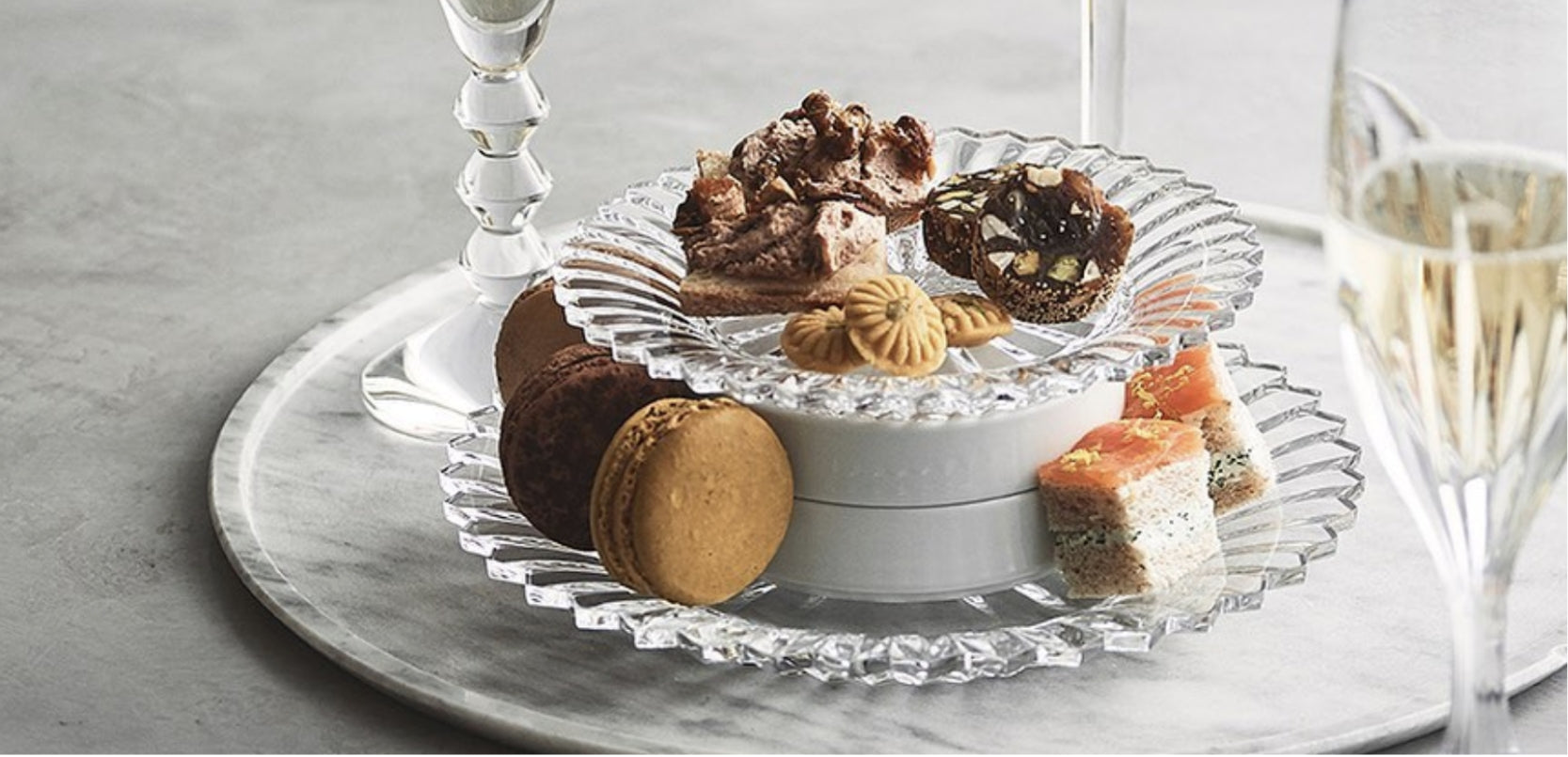 Every good bubbly needs a great glass! Using high-quality champagne glasses elevates the experience of enjoying fine, sparkling wine. With so many styles of glass on the market, it can be hard to choose one for your home. Whether you love hosting extravagant dinners or simply appreciate a luxurious touch to enjoy yourself in your home, there is a champagne glass out there for you.
With 25 years in the restaurant and style industry, I have been honored to have hosted countless gatherings for friends, family, and VIP guests. I believe every experience is worth celebrating which is why I painstakingly curate the highest-quality and most unique homeware for my clients. From the finest crystal to the most elegant designs, these are the top 5 best glasses for champagne to add to your dining collection.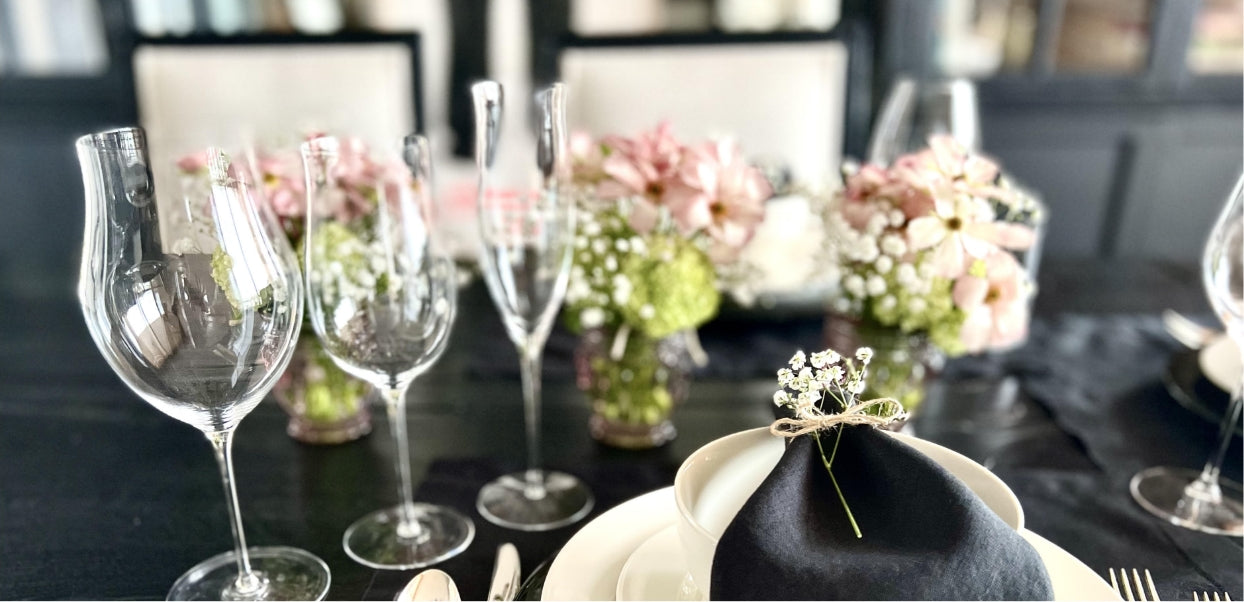 My Favorite Champagne Glasses and Why I Love Them
1. Fran Berger Signature Champagne Flutes
When it came to designing my own champagne glasses, I spared no detail in designing a crystal glassware collection that I would use in my own home and for my guests. And if you know me, then you know I am all about the mood-altering power of pretty things.
These oversized, 100% lead-free crystal glasses are hand-blown in the Czech Republic and possess a graceful and elegant design, with a slight curve at the top of each glass, finishing with a paper-thin rim. The way they sit so lightly in your hand and on the lip truly elevates the whole drink experience. Not to mention the super, sexy swirl!
I wanted my glasses to be luxurious but versatile, making them ideal for any occasion. These are sophisticated enough for big celebrations, but also still perfect for toasting to the smaller moments in your daily life with signature sophistication, whether it's a 20-person dinner or a night alone and curled up with a good book. They are sold in pairs (2 flutes) at $220 each.
2. Baccarat - Mille Nuit Flutissimo
I like to call these the "Great Gatsby" of champagne flutes! The Baccarat Crystal Fluttissimo is part of the Mille Nuit collection by Mathais. These gorgeous crystal flutes have an elongated shape and a beautifully detailed stem, adding a fun and elegant flair to your next hosting experience.
These champagne glasses come in several colors to match any style and theme. Baccarat offers these crystal flutes in:
Clear
Amber
Red
Blue
Moss
Whether you need them for a specific event or just to add to your own home, these glasses will make your dining room sparkle every time you bring out the bubbly! These are one-of-a-kind flutes that your guests will love, no matter the occasion. You can get them here at $600 for a set of 2.
3. Moser - Mozart Champagne Glass
I recommend these glasses for the most important of all tables: yours! The Mozart Champagne Glasses bring a high-quality, regal look to your table setting. In contrast with a more traditional, long-stemmed flute, these shorter stemmed flutes blend the art of rococo design and modern crystal, a highly-recognized collection throughout the world.
According to their website, "The champagne flute glasses from this collection have been enjoyed by a number of significant figures, including the Iranian Shah Mohamed Reza Pahlavi, the Moroccan sultan Muhammad V, the maharajah of Hyderabad, and the Egyptian king Fuad."
Talk about ruling your next dining occasion! The Mozart Champagne Glass is priced at $177 per flute and can be purchased here.
4. William Yeoward Crystal - Lally Champagne Flute
William Yeoward offers some of the finest handmade crystal glasses and the Lally Champagne Flute does not disappoint. Pour your next bottle of Dom Perignon into these sophisticated, contemporary flutes. Measuring 11" in length, these flutes fit perfectly in the hand and the rounded design of the stem makes for easy grasping, while still maintaining a chic and modern shape.
These stylish glasses are excellent for any kind of celebration, from an extravagant New Year's gathering to a simple Friday night dinner at home. You can start your Lally collection at $215 a piece.
5. Table Art - Ambassador Champagne Flute
Sometimes, the most beautiful things are the simplest. These Lobmeyr, mouth-blown crystal champagne glasses define the beauty of the classic design, allowing you to create magical, intimate moments every time.
Whether you're enjoying an evening sip under the stars, a "cheers" beside your favorite person, or hosting a multiple course event, the Ambassador Champagne Flute. At just $149 a piece, you can get an entire set for your table at a reasonable cost. Order them here today.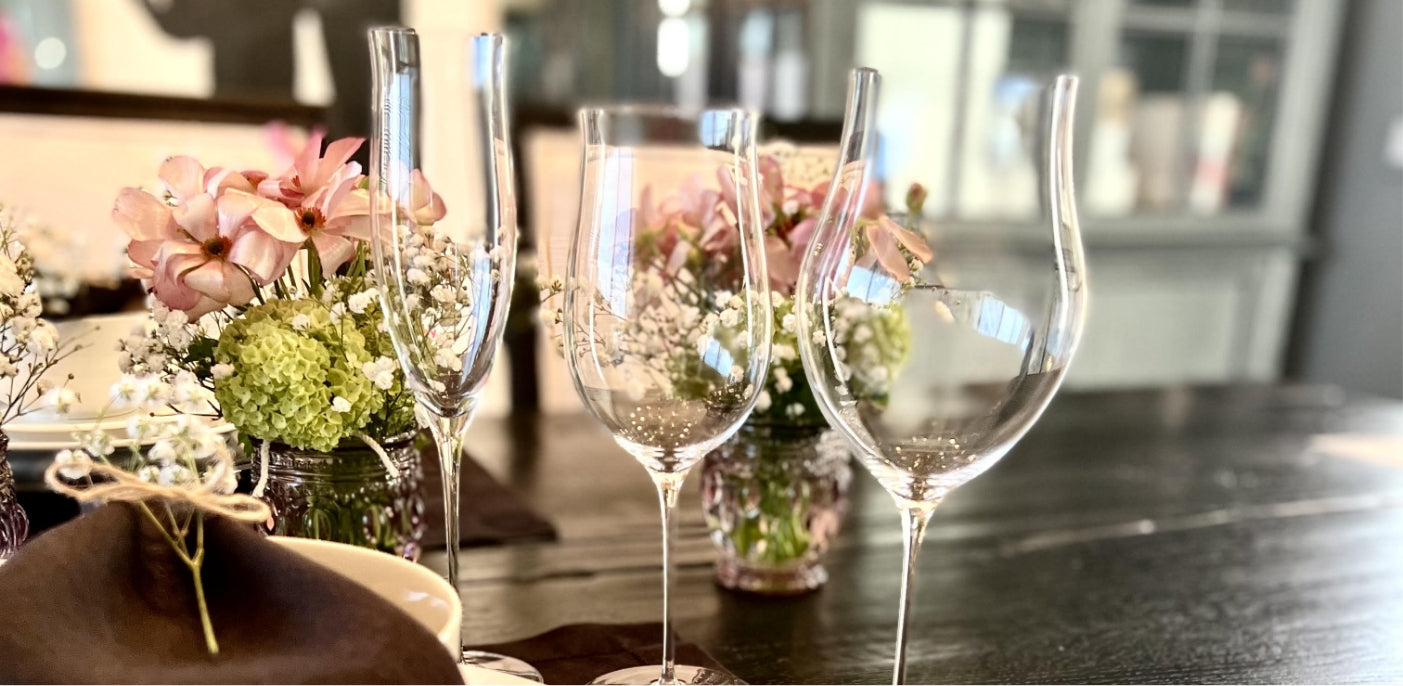 Different Types of Champagne Glasses
1. Fran Berger Signature Champagne Flutes
Champagne glasses come in four different types. Depending on your taste and what you plan to consume from your glass, you'll want to choose the style that best fits your needs. The four different types of champagne glasses are described below:
1. Flute
The flute shape is the most common type of champagne glass. These glasses display a narrower mouth and bowl, which helps to preserve the bubbles of the champagne while the longer stems prevent hands from warming the beverage. These are my favorite type of champagne glasses!
2. Tulip
The tulip glass is ideal for champagne because it has a narrow mouth and a wider bowl, which allows the bubbles to float to the top and the aromas to fully develop. Tulip glasses can provide a better champagne drinking experience because the shape of the bowl allows more champagne to fill the glass and offers more room to hold the glass to avoid finger smudges - a win-win!
3. Wide Tulip
Much like the tulip, the wide tulip champagne glass offers the same graceful shape, but the wideness of the bowl is lower and located towards the stem. This is practical for collecting aged flavors found in fine sparkling wines, like vintage champagne.
4. Coupe
Popular in the 1950s, the coupe-style champagne glass has a very wide, open bowl and a shorter stem. The shape of the coupe glass allows the bubbles to disperse, which helps soften the taste (if you don't like too many bubbles, this is a good type of glass to use).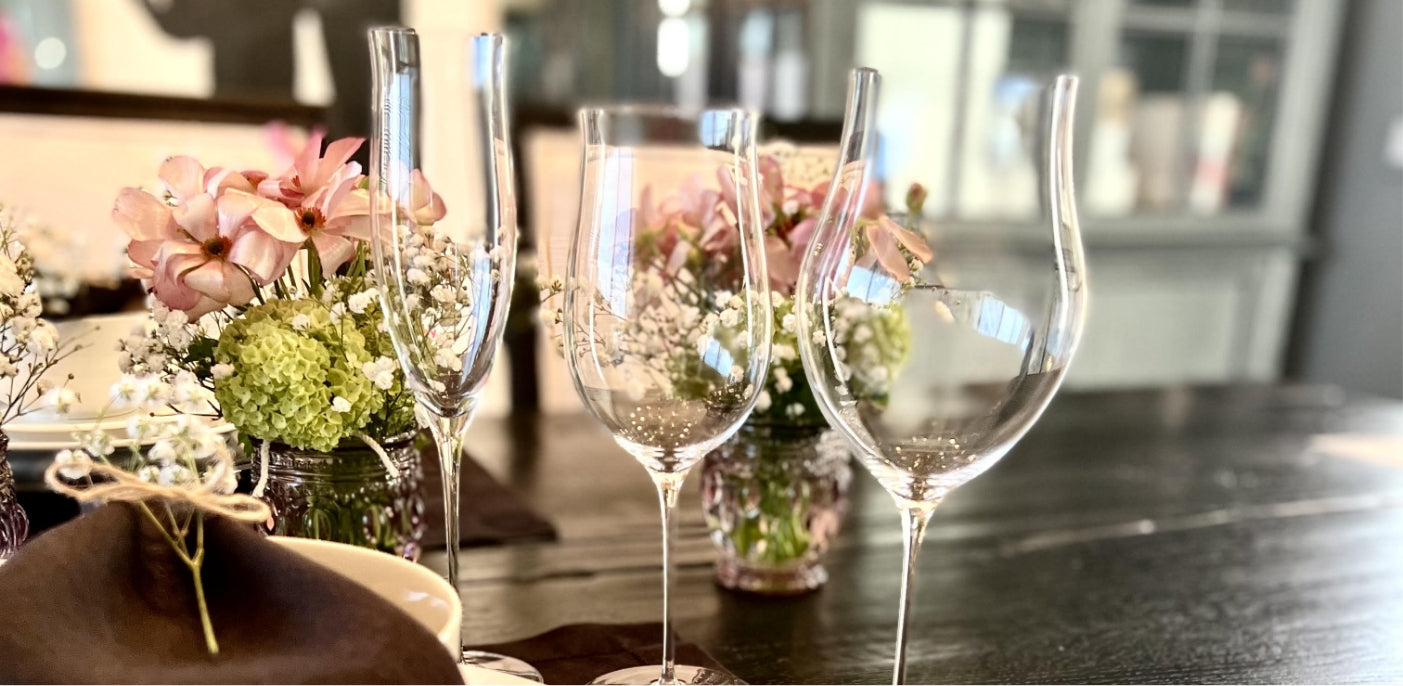 Choosing a Champagne Glass: Features to Consider
With so many different types to choose from, shopping for champagne glasses is a highly unique and personal experience. Not only are you looking for something that matches your elegance and style, but you also want a set of champagne glasses that can be useful in multiple settings and will stand the test of time. When choosing a champagne glass, it's important to consider these three features:
Material
Champagne glasses are made from traditional glass or crystal (lead or lead-free). High-quality, handmade (or blown) crystal glasses are often lead-free because of the health concerns regarding leaded crystal.
Ever hear the saying, "clear as crystal"?
Crystal is by far the best material used to make champagne glasses, as it provides incredible clarity and shine. When blown, it can be stretched very thin, giving it the shape and design for enjoying the overall colors and flavors of your bubbly.
Design
Depending on your priorities when it comes to fine dining, knowing what you're looking for in the design of your champagne glass can make all the difference.
Maybe you prefer a shorter stem but still want to enjoy a graceful, elegant shape? Or maybe you like an oversized, tall flute that feels light and airy in your hands. Or maybe you want a bold and charismatic glass that stands out in a crowd. Having an idea of design in mind when looking for your next set of champagne glasses will help to make your decision easier.
Cleaning
When choosing a champagne glass, consider the cleaning process and what is required to keep their shine and brightness. A narrower bowl will be more intricate to clean, especially if it is exceptionally thin. Some may also require a drying process to remove smudging or watermarks. Comité Champagne describes the best way for cleaning your glasses: "Always rinse Champagne glasses with hot water before use, and leave to drain. This will remove any detergent or 'rinse aid' residue that can cause the bubbles to go flat. Many times, a disappointing show of effervescence is the fault of the glass and not the Champagne."
I recommend keeping these features in mind when deciding on purchasing a new set of champagne glasses. This will help to find the perfect style and overall design for you.
Entertain and delight your guests by bringing a touch of elegance to your next celebration with these high-quality champagne glasses. When you add one of these sets to your dining collection, you can happily enjoy a glass of bubbly any day - and, if you ask me, every day is worth celebrating!
Want to know more of Fran's favorites? The Catalogue, Vol. 1, is a curated collection of Fran Berger's favorite pieces from her celebrated career as a home entertaining icon and restaurateur. Be the host you've always imagined by ordering your printed, hardcover copy today!